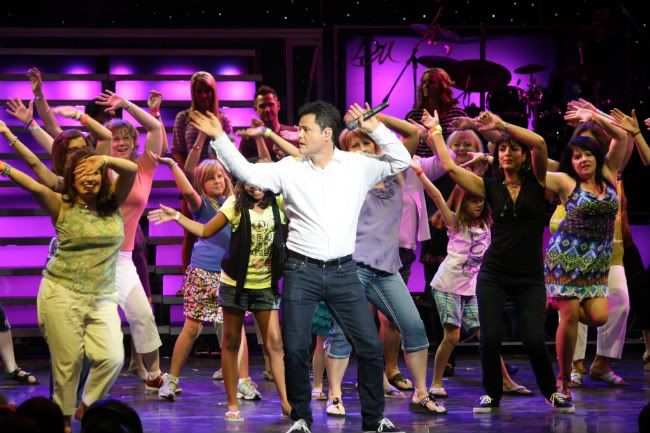 I would have to say that the third day of the Donny Get Together, was by far the best. Everyone gathered in the Flamingo Showroom where Donny and Marie do their show. Donny put together a program at last year's get together and called it M.A.D. - Making A Difference. He gave ten participants a video camera and $300 to see where their idea of "making a difference" took them. They were to work on their projects during the next year and report back ... we all listened to the presentations and then a panel of judges chose a winner, who was awarded a trip to Hawaii. (Awesome.)
After that, Donny has what he calls a Donny Dance Off where whoever wants to, comes up on stage and dances to the "Yo-Yo" routine that we learned for the flash mob dance that was filmed on Day #2. You just keep on dancing until one of Donny's dancers taps you on the shoulder, which meant: You're eliminated and have to leave the stage ... sad. This went on until there were just ten participants left. Those ten then go off with Donny's dancers to learn a routine from the Flamingo show and then they come back to dance with Donny. The audience then chooses a winner by applause and the winner of that gets a trip to Disneyland! (Not bad.) That was what Diane was REALLY looking forward to the most. And she did make the top ten and she did dance with Donny and she was just a little bit happy about that, as you can imagine.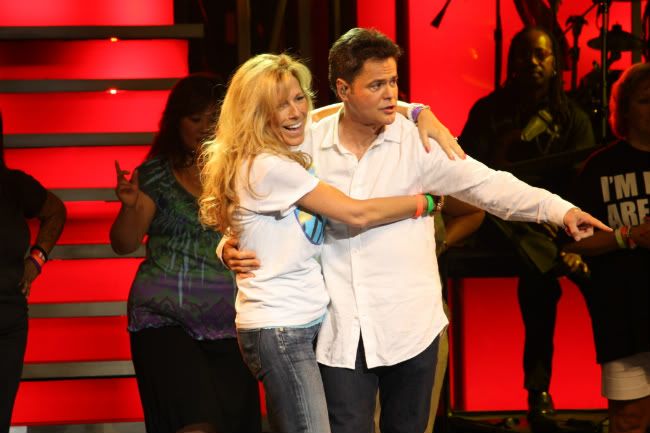 It was kind of a bummer for the top ten though (sorry Di) because while they went off to learn the dance routine, Donny gave a mini concert for the rest of us while we waited, and it was a blast. He took requests ... anything we wanted him to sing, he sang. He sang
Puppy Love, Go Away Little Girl, Close Every Door,
a really pretty song called
Keep Her in My Mind
(that he had to look at his phone for the lyrics) ... he started to sing
The Twelfth of Never
and then laughed saying he wanted to do it Elvis style, which was pretty adorable. (Someone recorded it and you can see it
here
- it's only two minutes. If you like Donny, you should see it, he is so cute doing it.)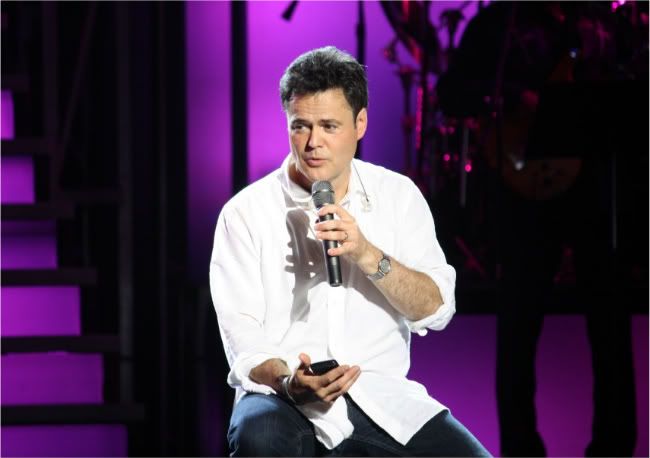 BUT.
I must say, as great and fun as all of that was, and it was, the best part of those morning activities was when Donny stood up in front of the group and started to talk about the singing audition he had held.
The original plan was to choose three winners, but as he began to speak he said he couldn't decide on just three so he had chosen twelve. He was explaining how things were going to work: This is going to be a lot of fun ... we'll go grab a bite here in the hotel at "The Burger Joint" ... I'm going to have our makeup artist, Kim Goodwin, put some nice makeup on you ... We'll mike you properly ... I will be with you, it'll just be you, the cameraman, and myself so no need to worry about being nervous and all that kind of stuff,
at which point the audience laughed, 'cause that wouldn't make you nervous or anything!!!!
Donny read the first name, "Allissa Letts. Are you here Allissa?" He read the second name, "Polly Wood. Polly Wood, c'mon up."
SAY WHAT?
And then these thoughts ran through my head: No. He can not be serious. He did NOT just say my name. He did not just say my name. How could he have picked me? He did not.
But then when I got up to go to the stage to get my pass, Diane knocked me back down into the booth, hugging me and screaming,
He picked you!!! He picked you!!! I told you!!! I knew he would!!! Oh my gosh!!! I told you!!! You didn't believe me!!!!
So then I figured it must be true.
Can you believe that?
I
was going to grab a burger with Donny Osmond and then record a song with him. It was totally surreal in that moment in time. But then it really happened ... I grabbed a burger with Donny, we visited. When it was my turn to record, as I was walking into the room, John (remember him, Donny's right hand man for the event?) said, "Donny, here comes
Hur-ray forrr ....
" and then Donny sang, "
Po-lly-woooood."
And then how could I not think,
Is this really happening right now?
Donny Osmond and I were in a room together ... He sang, then I sang ... I made a silly face, he made the same silly face and told me to
try it again without that face at the end
- so I sang that particular line again and he told me that the second time was
perfect
and he got a little excited about that with his cameraman and they high fived each other.
SO
FUN.
SO
COOL.
SO
CRAZY.
I gave Donny a hug at the end of our little segment and thanked him for the opportunity and said,
This has been a privilege.
And it was. (Wow, right?)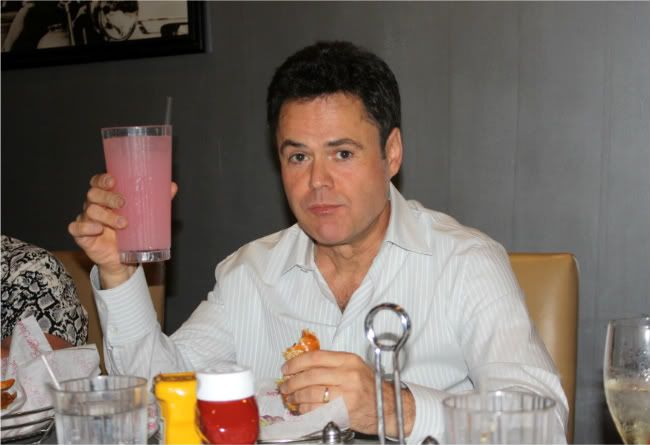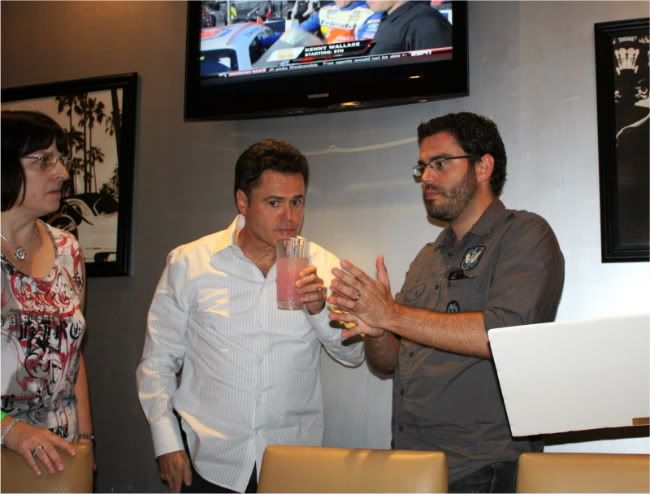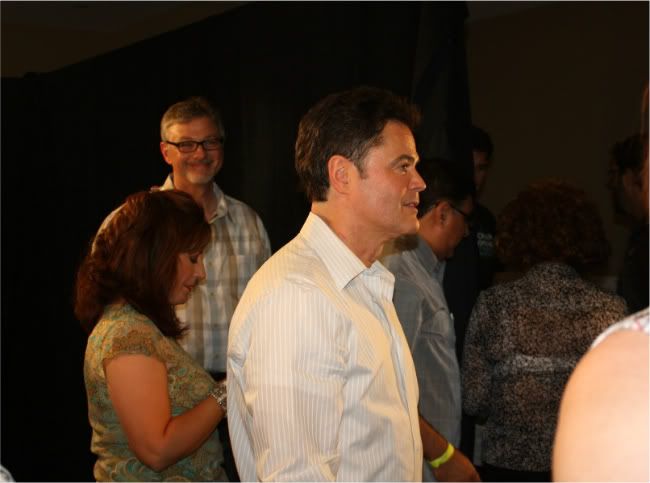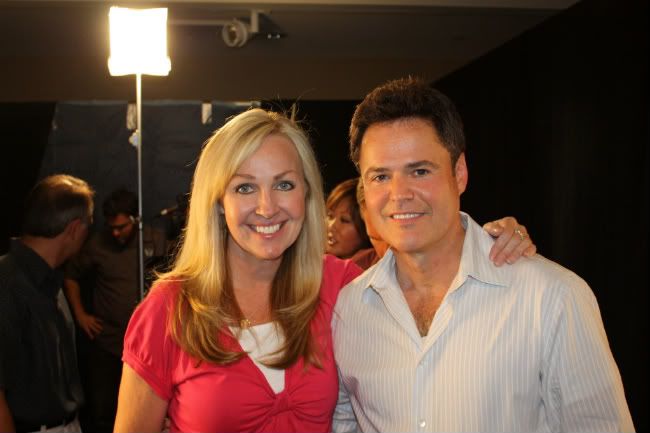 (BTW, I do NOT like this picture of me ... it doesn't even look like me, thanks to Kim the makeup guy, or the angle of my head or something ... but IT'S DONNY! I had to post it.)
... and that's a wrap.