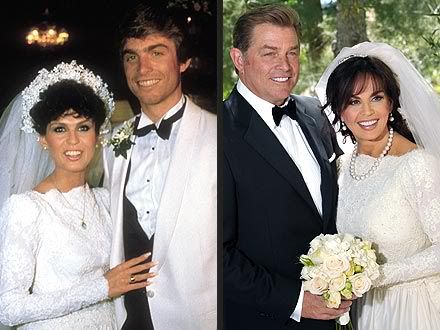 Did you hear the news???? Marie Osmond remarried her first husband, Steve Craig! I guess they know how to keep a secret 'cause I don't think anyone got wind of this until after the fact ... and I am really, really happy for them!
Back in my days as a student at Brigham Young University, Steve Craig was one of the basketball stars at that time. Big man on campus too. He was SO attractive. I remember one time I happened to be walking back to my dorm and he was walking not too far in front of me. When it was time for me to turn toward my dorm, I didn't. I kept on going in the direction that he was going. I wasn't quite done looking/gawking/admiring/enjoying him. (I did all kinds of silly things back then.)
When he and Marie got engaged I didn't think, Wow, lucky Steve! He got Marie Osmond! I thought, Wow, lucky Marie! She got Steve Craig!!!!!
They had their wedding reception here in Salt Lake City at a beautiful hotel which (back then) was called the Hotel Utah. One of my closest friends' family was good friends with the Osmonds. Her father had worked with some of them on various projects so they were invited to the reception. But as luck would have it, it wasn't a good night for most of their family so I volunteered to go with one of the sisters in the family ... yay me!
We stood in line for about 3 hours (seriously), but it was worth it. Marie's dress really was so stunning and she was just glowing. And there I stood, face to face with Steve Craig and got to shake his hand ... sigh.
I love that she wore the same dress this time too. As the story goes, she wasn't intending to but the one she was hoping to wear wasn't working out so she found her old one. "I can't breathe, but I'm in it!" (Marie's words.)
It was a complete surprise to hear this news today, but I wish them all the best! I hope Marie is happy now.
Sidenote: I already have mentioned that I attended Marie's wedding reception. Do you remember that? It was back in the blog post about wedding dresses? When I mentioned it would be so fun to see everyone's dresses and talk about why we picked the one that we picked? Hint, hint .... smile.