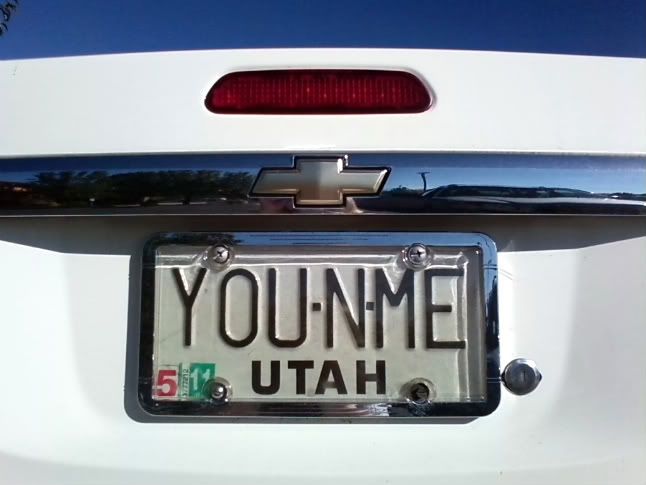 When I started my blog last year, I made a list of happy little things that I wanted to post about.
One of the things at the top of my list was license plates (I talked about that
here
). I just LOVE looking at license plates and I can't even stop myself if I wanted to, which I don't, so that works out nicely.
When Elliott was about three years old, I gave him the nick name E-Man. He was
SO
active and actively engaged in all things destructive that I thought he needed an action figure name ... thus, E-Man ensued and we still call him that.
I don't think it was too long after we moved to Draper, that I pulled up to a light and was stopped right behind a car with the license plate "E Man" and YOU KNOW I did a song and dance in my head about how cool that was!!!! Except it was a bummer too because I thought,
Oh shoot! That would have been such a cute plate for Elliott to get when he starts driving.
I actually saw it around town quite frequently in the following years and then my sightings stopped. Just a few months ago, McCall said, "Mom! I saw a license plate that said
E Man,
how cool is that?!?!?!"
It was back. And then a few weeks ago, I had a sighting of my own ... and I had my camera. And isn't it funny how after you become a blogger, everything becomes a little bit more of a photo op?
I really do think that Utah drivers pick out some pretty clever personalized plates. Like the big yellow Hummer I saw the other day with the plate "HUMMBEE" and the grey mini van I was behind yesterday that said "DSNYVAN". I saw one a couple of weeks ago with my sister that said "SPOILME" and the one below, which I saw in the high school parking lot, must belong to someone who
is
spoiled! :)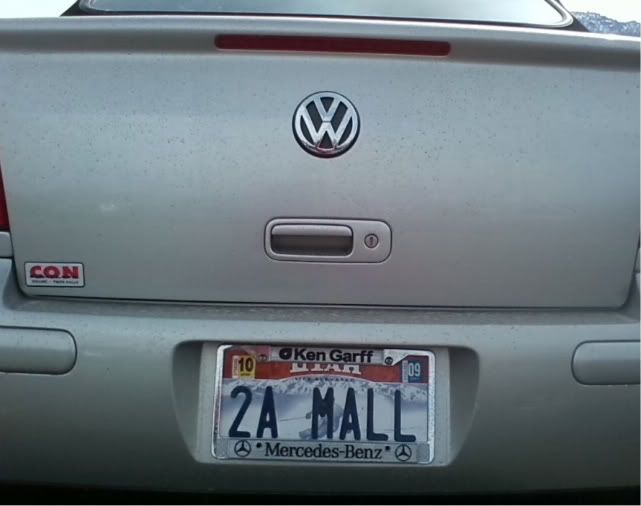 Not that this one is
so
original, but hey, she got it first!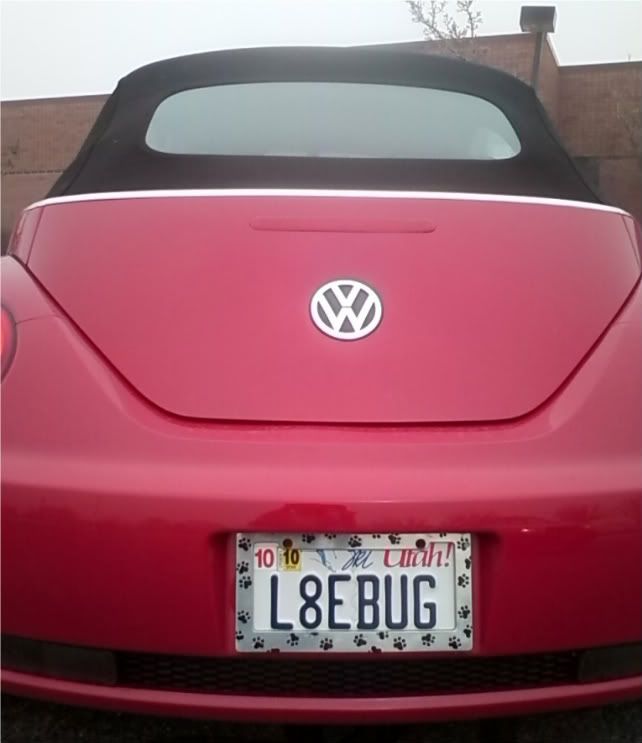 It was probably sometime last year, I was in the drive thru parking lot of McDonald's (imagine that) and I saw a plate that said "DONNY O" and I freaked out!!! I wanted to get out and meet the person who owned it and ask her (of course I assume it would be a
her)
if she was a HUGE Donny Osmond fan and how long had she had it ... but I had cars behind me and I SOOOO wished that I had had a camera with me so I could take a picture of it to send to my friend Diane! I was a little distressed about it too. The phone that I had back then didn't have a camera on it. Boo! As I made my way to the window, I thought maybe I should drive back around and wait for the owner, then ask them if they could take a picture of it and email it to me ... then I re-thought that and decided against it because - how lame would THAT be?
I was bummed. (What's that expression -
simple things for simple minds?
) And I really did think I was being silly. My word, I could just tell her about it, right? But it isn't the same as seeing it. Shoot.
Guess what I saw today?????? I was on the phone with my sister, Courtney. I got behind that
Donny O
car and said, "Oh my gosh, there's that plate. I have to hang up. Call you back!"
I followed the car into the parking lot of the Olive Garden, waited for them to go into the restaurant, and then ever so discreetly, took a picture. And it made me soooo happy!
So, this one's for you Di: