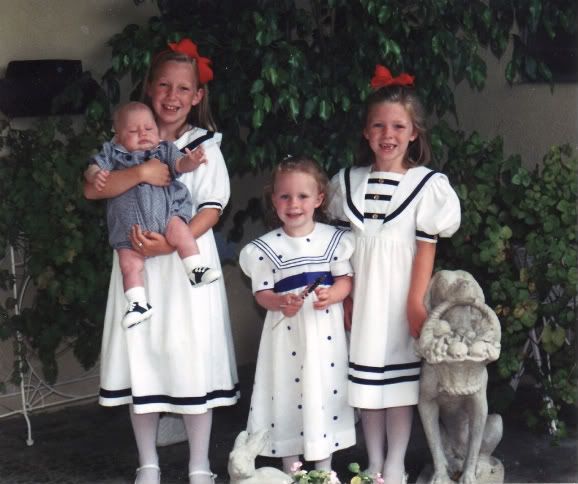 This morning after I got dressed for church Sophie said, "Aren't you going to wear red, white and blue?" I had wanted to wear red, white and blue since it is tradition that we always dress in the colors of the flag on July 4th ... I had thought about the outfit that I could wear - my blue and white skirt, white top, silver necklace with my red glass heart bobble, but when I tried on the skirt and realized that it is a size six and I'm not a size six - I wasn't able to wear red, white and blue. Sad.
When we got to church we sang "America the Beautiful" as an opening hymn and I got emotional. I truly do feel blessed to live in a country where so many immigrants have come and settled because of the freedoms this nation affords. Even being allowed to sit in that congregation this morning and worship as I chose is a freedom that I mostly just take for granted.
I looked over my shoulder and saw my friend Vicki a few rows behind me wearing her red, white and blue -which I knew she would! She had on a blue skirt with a white blouse. She had red, white and blue heart earrings on, a red, white and blue bracelet and of course her flag painted toes were nestled in her red, white and blue sandals. But what really made me smile, as she sat with her arm around her husband John, was seeing him in his suit with his red, white and blue American flag print tie!
I am grateful for the founding fathers of this country, who were God loving men and who saw fit to have the phrase "In God we trust" engraved on our coins ... in God we should trust ... and I am grateful for those men and women who fight to protect the freedoms we enjoy everyday and who risk their lives for us.
So today - Happy Birthday America! I know its been a really rough year (we all have them) but here is wishing you a better one yet to come as you continue the fight ...