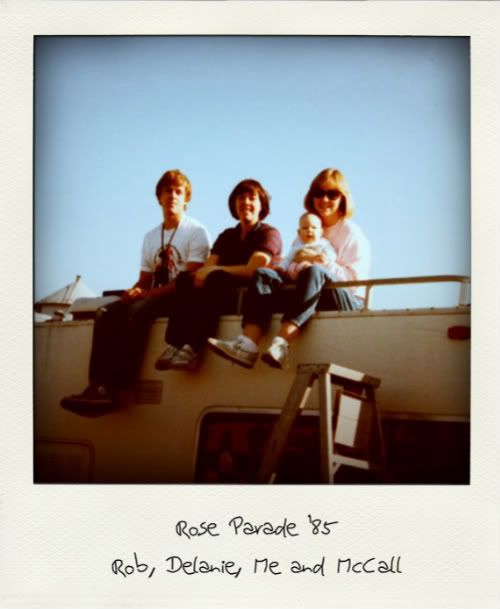 First off, is it really January 5th already?
How does that happen? Seriously? One morning I'm watching the Rose Parade thinking I will post about it on my blog, and wish everyone a happy new year, and the next thing I know ... 4 days have passed.
(Big sigh as I shake my head).
I do
LOVE
the Tournament of Roses Parade. I don't know how many times I have been to it, but I was lucky enough to grow up practically down the street, so it has been lots of times. And it just never ceases to amaze me. Truly, the floats are absolutely spectacular in person - and sometimes, even breathtaking. (It has kind of spoiled all other parades for me though. Nothing compares.)
A particularly memorable year was when the Church (of Jesus Christ of Latter Day Saints) had an entry. I couldn't tell you what the float looked like today but I do remember who was riding on it ... that would be Donny and Marie. Good choice, don't you think?
After the Parade was over, the floats were taken to
Victory Park
, in Pasadena, so visitors could get a closer look. My friend,
Diane
and I were pretty excited about that, so we took a little trip to the park. Now there may or may not have been ropes around the floats to keep people off of them, but we decided that we absolutely had to take advantage of that "photo op" and climbed aboard. We stood in the little "stands" (much like you put around dolls to hold them up) that Donny and Marie had stood in and quickly took a few pictures. (We also may or may not have taken a few flowers from the float as well ... did you know that each flower is in its own little vial of water to maintain optimum freshness?)
Delanie's
family had a motor home and it was their tradition to park the motor home along the parade route a few days ahead and then get on top to watch the parade. We took advantage of that a time or two as well. The picture above from 1985 just might have been the last time McCall went to the parade ... how did I let that happen?
So this year, I talked to some of the kids about it, and we decided that we are going to do everything possible to get down to Pasadena next year to watch the parade up close and personal. Everyone is old enough now so we can camp out along the parade route and stay up all night.
(At least that will be the goal ... we can talk about it, right ... I don't stay up all night too much anymore ... in fact, almost never ... but it'll be a memory ... oh ... we have a baby now ... she'll be okay.)