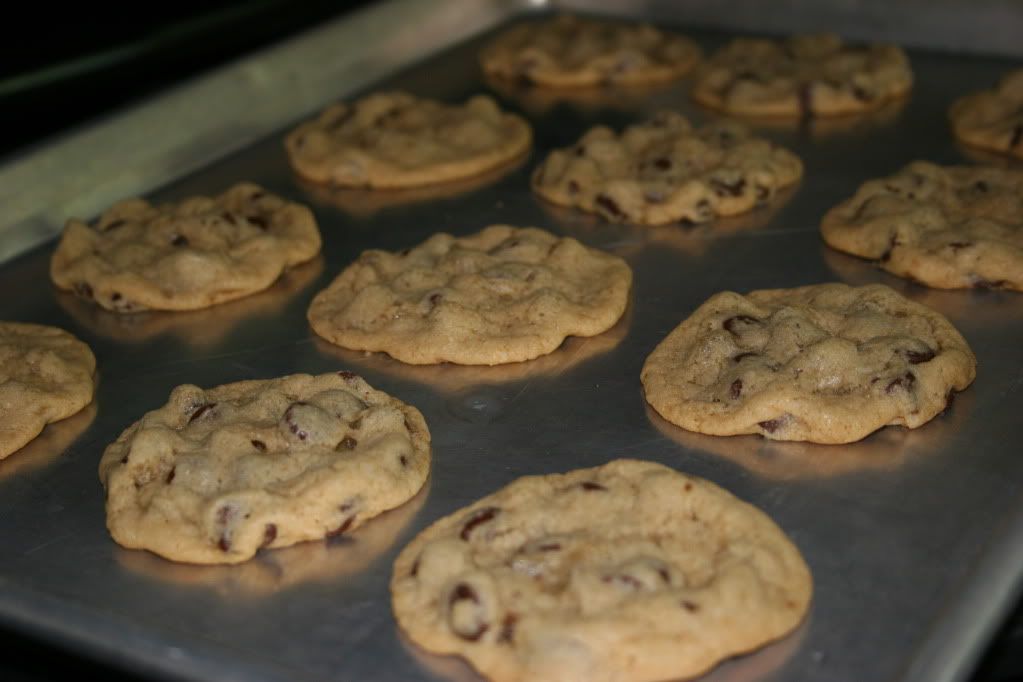 I can't remember exactly when I first started making chocolate chip cookies on a regular basis ... I must have had the assignment to bring cookies to some function when my children were little, and they turned out pretty well, so I kept on making them. Getting a perfect batch is a tiny obsession of mine. For me, the perfect batch is when they look every bit as good as they taste. People would ask me for my recipe and I would say, "It is just the toll house recipe right off the back of the bag."
And they would reply, "No it isn't. I use that recipe and mine don't taste like this."
It really was the toll house cookie recipe from the back of the bag - with just a few little tricks of the trade, which I didn't mind sharing.
During my third year at college, I worked at Mrs. Field's at the University Mall. Given my current age, as stated on my profile (why do you suppose they ask that anyway?), that was a really long time ago. In fact, Mrs. Field's was a fairly new conglomerate way back then. There were so few stores at that time that Debbie Field's actually came to our company Christmas party and I sat right next to her. She made all of us cookies, signed the back, shalacked them (that might be a new word for some of you) and made them into Christmas ornaments. I still hang mine on my tree.
My shift often started at 7 am. I would be the first one in sight at the mall, go in through the back door, turn on the lights, warm up the ovens, and proceed to make, what seemed to be, hundreds of pounds of cookie dough ... all kinds of varieties! Here is the interesting part ... I never really knew the recipe, just the ingredients. Nothing was marked. No lines on the measuring cups, there was just a big red one and a smaller red one. The chips were pre-packaged in unmarked bags, as were the raisins and nuts, so we didn't know exactly how much of anything we were putting in.
When we were hired, we had to sign an agreement saying that we would never open up our own cookie store which might compete with Mrs. Field's.
Years later, when I was in the habit of making chocolate chip cookies on a weekly basis, and often told I should open up a cookie store, I wondered what the statute of limitations was for that agreement ... hmmmm?
But here are a couple of tips that I have tried and found true over the years. Always set your oven lower than they tell you to - I set mine to 325 and extend the baking time to 12 minutes. I always use real butter - two sticks, partially melted. The toll house recipe calls for 1 tsp. of salt ... I think that is too much, I only use 1/2. And always extra chocolate chips (mine have to be Nestle's). I have the biggest bag from Costco in my freezer at all times (also great when there is an immediate NEED for chocolate) and then I just dump away!
I was giving the recipe to a friend over the phone the other day. One of my sisters heard me and said, "Tell her they won't turn out like yours ... they never do." She made me smile. I have the assignment of bringing chocolate chip cookies to all extended family functions ... it is an unwritten rule.