I remember driving down I-15 around Christmastime and seeing the billboards of zoo animals (lions and tigers and bears zebras, oh my!) with big, bright bows around their necks and thought how stinking adorable those ads were. I thought it was VERY clever marketing for our local Hogle Zoo - to get people to come out and visit the zoo during the holidays.
Guess I was wrong about that one, wasn't I? It was, in fact, VERY clever marketing for the movie, "We bought a Zoo." It looked adorable and I kept telling myself that I needed to go see it with the kids. They weren't as excited about it as I was though.
I had been having a really rough day at work (actually, it was a relationship issue). The guy that I had been dating had sent me an email that made me SOOOOOO mad - like more mad than I can ever remember being. (Yeah. I was fuming.) I just couldn't shake how upset I was with him, to the point where I couldn't sit at my desk anymore.
What gets my mind out of my own reality is sitting in a dark theater, with a ginormous screen in front of me, at the movies. I can totally lose my thoughts and engage myself in someone else's script for those couple of hours. So I got up from my desk right that minute and drove down the street to the nearest theater. I was hoping there would be something that I wanted to see, starting at just about the same time that I arrived.
And fortunately, there was. HELLO, "We Bought A Zoo."
I loved it. I thought it was adorable, and I was crazy about the cast that played in the movie. How cute is Matt Damon? He was such a great dad, and I thought there was really good chemistry between him and Scarlett Johansson.
My daughter, Chloe, reminds me of a lot of different actresses, and Scarlett Johanssen is one of them. And when I saw that cutie little red-head who played Matt Damon's daughter, Rose, I thought, Oh my word. That little girl is so much like Chloe was as a little girl. She was just too precious.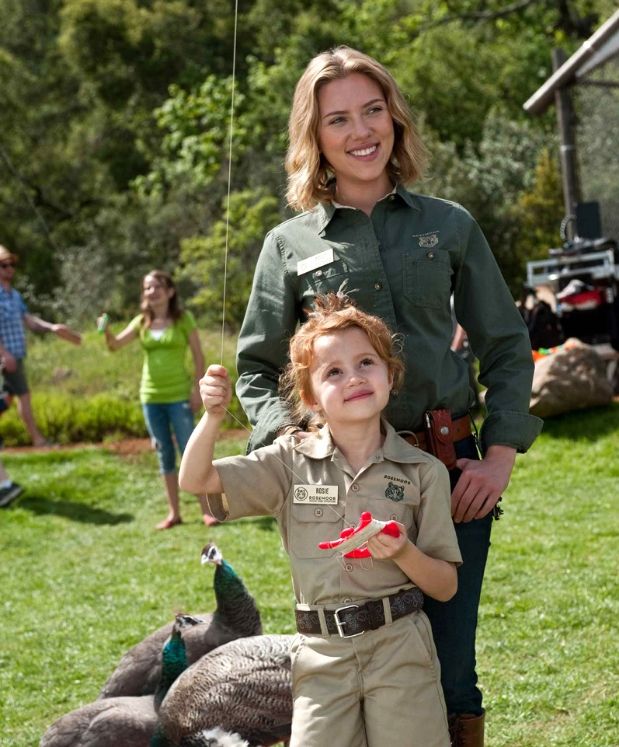 SO,
is it just me?
Or
is there a little bit of a resemblance going on?